First Choice Painting & Renovation is a single-owner, small business serving Huntsville & North Alabama with indoor & outdoor painting services and small-to-medium sized home repairs.
Please note the business changed their name mid 2022 to First Choice Painting & Renovation.
When Thomas Lewis approached us to create a new logo for his company, we were ecstatic. Not all logos are created equal, and his loving friend/family member that designed his initial logo had the best intentions.
The only format provided to First Choice was a grainy PNG that has the look and feel of a graphic created in 1998. The business wanted to target the middle to upper class home-owner market and needed branding to match.
So we decided to help.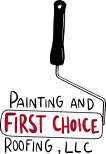 Are fonts with class or style a thing? We think so.
Italic and scripted fonts don't match the aesthetic of First Choice Painting and Renovation, but a serif font is the classic look for professional brands like doctors, lawyers, or the like.
We provided the client with a variety of typographies to choose from, whittling the reviewal process down to a selected few.
You'll notice towards the end of the choices for font, a clear blue box with instructions for the client, "Relax and take it easy."
It still amazes us that a simple font choice can carry so much weight for the success of a business moving forward. We always advise our clients to enjoy the branding process. After all, this is their business's logo – the first impression. And not only should it invite potential clients to get involved, but the owner should LOVE it as well!
All clients receive our utmost care and attention through every phase of the design process.
Typically, we take the branding process step-by-step. First choose a font. Then, choose an icon or graphical representation for the brand. Finally, color is added to bring everything to life.
Although sometimes, we break out of our traditional creative process to give our clients a boost. For First Choice Painting & Renovation's logo, we provided all three branding components in one fell swoop. 
Breaking the Creative Mold
Our creative & professional assistance worked! With our help, the client found a brand look & feel that fit everything that he was searching for. 
The final result is a professional looking logo that potential clients see and immediately trust. The color choices portray a calming influence, and the font is bold, readable and easily recognizable. 
Take a look at the final design for First Choice Painting & Renovation. Please note the name change that occurred in 2022. 
Always ready to support past & current clients, when the owner reached out for a simple name change, we completed the brand renovation and delivered all creative assets for less than $250.
The final step in completing First Choice Painting & Renovation's client work was to replace their standard Google Sites landing page with a lovely one-page brochure site to fit their design aesthetic.
We cued up a server, installed our optimized suite of WordPress themes and plugins, and finalized their experience. With content provided by the business owner and positive reviews from satisfied customers, First Choice now has a page for potential customers to get the answers the need. 
Once we launched our work for First Choice Painting & Renovation, the business experienced substantial growth over the next few months. More leads were generated, and the business saw an increase in profit margins as well.