1. Fonts
2. Icons
3. Color
Creativity is both a skill and a talent. Our creative process for branding non-profit organization and small start-up businesses has been refined over many years of practice. 
Typically, we start with a sheet or two full of font selections. These choices are based off an initial consultation call, where we hear each clients' preference and present options accordingly. 
Next, we start on an icon or logo design. For 3D Connections, the owners named their business after their three sons (adorable), who all have names that begin with the letter D. So our job was to find an aesthetic layout of this symbol, while conveying a professional and modern look.
There has not been many times where we get the creative process of branding completed in one step. Typically, its a multi-step process, with many steps both backward and forward.
You can see this creative process in the PDF. With creative feedback from each client, we tweak, we pivot, and we work diligently to find that "Wow!" factor for each logo we create.
A brand is something everyone should love.
Mocking Up a Landing Page
For this small business, the owners only required a simple landing page for people to discover their business. Their many method of marketing is word of mouth and referrals, but having an online presence helps to elaborate and convince potential clients.
Opening up our preferred design suite, Adobe XD, and armed with an exhaustive set of iconography, vector artwork and stock imagery, we began the process of developing a user experience. 
To illustrate the personal touch we provide each client, the color choices for the website also match the birthstone color of the three children the business is named after – emerald, amethyst, and garnet.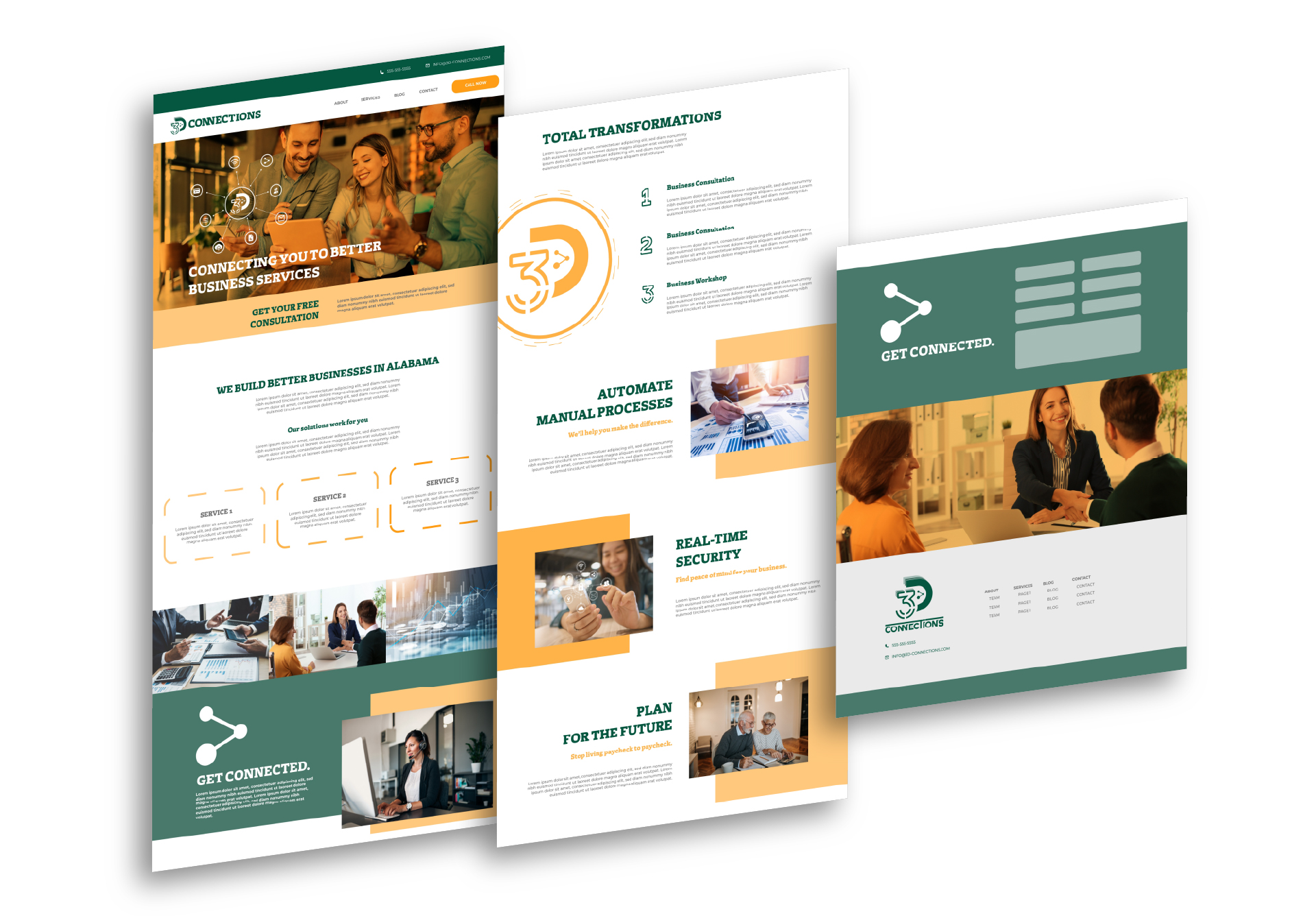 Not to brag, but we're pretty efficient at building websites.
Designing first in Adobe XD and then building in WordPress is a process we absolutely love. Do you remember when a school teacher would ask you to write an outline before an essay? Yea – we didn't do that either. 
But as a business who values simplicity and effectiveness, we work smarter not harder. With the website for 3D Connections, we finished their page in a few days. The clients asked for some updated images, and then it was published live!
You can have a look at: 3d-connections.com
Oh – did we mention we help with domains, hosting and email set-up as well? 
When you work with us, we make the process easy for you.