Solving the Branding Issue
When the founder of the organization approached 21 ads media to overhaul their WordPress website, our initial conversation uncovered an identity issue for the non-profit organization.
The founder, while out in the community changing lives and making the world a better place, would received negative feedback that his original branding – "We are Raising Men Lawn Care" – was too exclusive. Young women were actually encouraged to participate in the community service project, The 50 Yard Challenge, but their branding did not reflect this fact.
A simple fix for the brand, we adjusted the layout of the logo, added a few words, and viola – an inclusive brand was born. We are Raising Men & Women Lawn Care Service might be a long name, but at least it portrays the heart and soul of their mission. 
The non-profit is instilling the values of service, leadership, and community into our youth, and now, their logo and branding assets display proudly how they serve communities across the country.
View their Finalized Branding Guide.
Affordable Digital Marketing
We immediately fell in love with the compassion and service of the non-profit's founder, Rodney Smith Jr.
The legacy he is leaving in communities across the country is truly one-of-a-kind. We proudly offered a reduced rate to revitalize their website so his limited funding could find maximum impact by serving youth.
Their mission is to provide free lawn care to elderly, those who are disabled, single mothers and veterans, who do not have the time, resources and/or money to take care of their yards.
The non-profit organization had already received national attention & internet fandom due to the heartwarming presence of its founder and mission. 
A one man show, Rodney needed to focus on serving our community's youth, not making website updates and delivering marketing materials. So we jumped into help, solidifying the brand of We are Raising Men & Women Lawn Care Service to match the authenticity of its mission.
A Little Professional Help
It might sounded like we are going on about the founder, Rodney, but he really is impressive. He had already installed and developed a website in WordPress using Elementor Page Builder. 
What he needed was a little professional help to sort content, create a visually appealing experience of website visitors, and have on-demand support for when WordPress plugins conflict or donation receipts don't send due to SMTP errors.
Fortunately, we are experts on these topics, and within a few weeks, we created an beautiful online experience for those interested in the mission.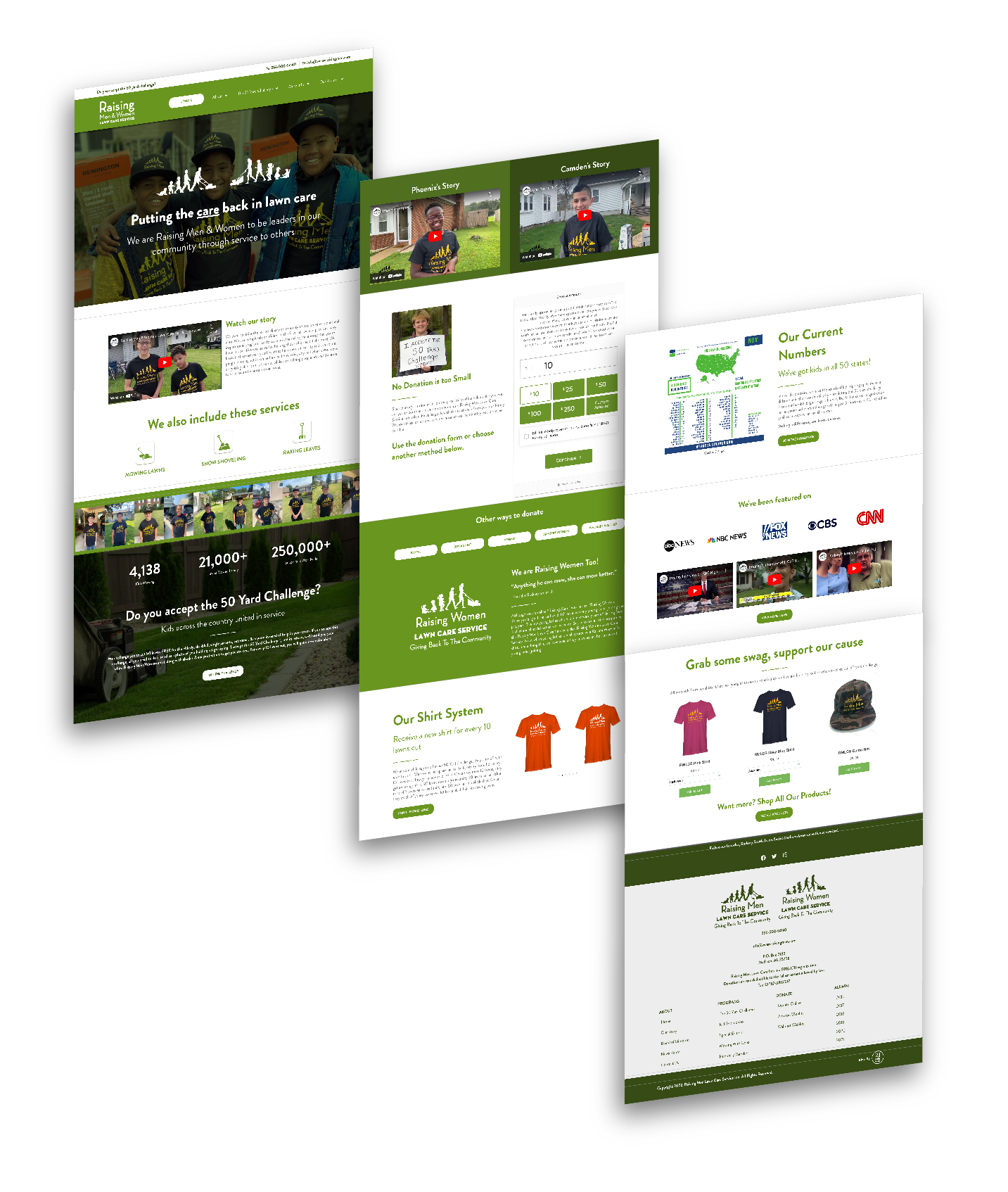 If you are as interested as we are, please take a moment to Watch the Story of We are Raising Men & Women Lawn Care Service.
Truly inspiring, this is why we exist at 21 ads media. We want to help organizations grow their online presence. We want to help those making our communities a better place, by making the internet a better place. 
We want to use our tech skills for good.